Economical solutions to support wiring harnesses during manufacturing and assembly are essential in the automotive industry. Bandex has developed tailor-made solutions for this sector, such as the industrial anchor rubber band, an easy-to-apply, versatile, and reusable solution.
Anchor bands are rubber rings with an anchor-shaped flange used for fastening parts and wiring, adapting to different objects and allowing a firm and resistant fastening, ensuring grip. Manufactured in natural rubber and synthetic rubber or silicone in a wide range of colors and sizes, and with a tab that allows easy untying and opening without the need to cut them like cable ties.
What is the wire harness industry?
The trend toward increased electrification is increasing the proportion of electrical components, wires, and conductors in many products, from construction vehicles and robots to our personal computers.
An automotive wiring harness is a set of electrical wires, connectors, and terminals that transmits power and information throughout the vehicle. It also acts as a safety enclosure that helps prevent fires caused by short circuits.
The wires connect different car components and carry power to start the engine, turn on the windows, and operate the navigation system, meters, and lights. They are also commonly used for chassis wiring, heating, ventilation, air conditioning (HVAC) system, and sensors.
Bandex's industrial anchor band is a natural, economical, simple product that can be recycled, thus reducing the minimum environmental impact required of the automotive industry, which is why, with the development of the electric car and the ever-increasing digitalization of vehicles, it is beginning to be a high-growth industry.
At Bandex, we manufacture and sell more than 250,000 million units per year of these rubbers for wiring manufacturers.
The automotive wiring industry's importance in the economy
Industrial manufacturing is considered the economy's engine in most developed countries, and automotive is one of its big tractors. The global automotive wiring harness market reached $76.1 billion in 2021. The market is expected to reach $99.7 billion in 2027, with an average annual growth rate of 4.4% through 2027.
The significant growth in the automotive industry worldwide is one of the key factors driving the market growth. In line with this, electric vehicles (EVs) are widely adopted due to growing environmental awareness, driving product demand.
A growing industry is driven by increased demand for electric cars
Compared to conventionally used wiring systems, automotive wiring harnesses offer highly secure and reliable connections while improving vehicle fuel efficiency. Wiring harnesses also secure safety sensors, such as blind spot detection and automated control systems, to improve vehicle performance.
Increasing demand for electric and hybrid cars is expected to drive the growth of the automotive wiring harness market to $64 billion by 2026, according to a report on the global automotive wiring harness market.
According to the latest statistics, in 2021, electric car sales doubled to 6.6 million from 3 million in 2020, with sales in China, the U.S., and Europe increasing 160% in the first half of 2021 over the previous year. Growing demand for electric and hybrid cars is expected to drive the need for automotive wiring harnesses.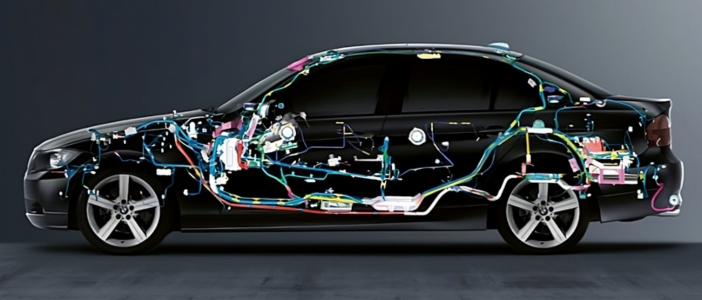 The wiring harness industry and the Ukraine conflict
According to the Automobile Journal, Ukraine used to supply about one-fifth of the wiring harnesses that manufacturers need for their cars in Europe, so, due to the country's war against Russia, production stoppages are being caused by major European brands that had diverted production to the East for various reasons.
This is why Morocco has stepped forward to replace Ukraine and has signed new investment agreements worth $180 million with five suppliers of automotive cables. The main problem facing the automotive industry with this item is that each model requires customized wiring, which must be assembled and packaged, and it is estimated that each vehicle has an average of 4.8 km of cables.
It is now known that one of the t is now known that one of the many applications of rubber bands is the securing and bundling of wiring harnesses in the automotive wire harness industry. However, at Bandex, we sell our industrial anchor bands to the leading automotive wire harness manufacturing countries such as Morocco, Eastern Europe, Tunisia, Latin America, etc. We are also direct and indirect customers of important automotive industries such as Aptiv Group, Leoni, Yakazi, Sumitomo, Lear, etc.
We are a leading company in the sector that is constantly adapting to new challenges in the industry. At Bandex, we have a corporate value (excellence in service, quality, and competitive prices of a product made in Spain) that positions us as a world reference in manufacturing rings and rubber bands.
We currently manufacture and market industrial anchor bands for large international reference companies in sectors related to automotive, construction, and do-it-yourself.
In addition to the automotive sector, the industrial anchor band can be used to fasten cables and electrical harnesses in various installations, works, and reforms of all kinds. It can also be used for grouping and arranging construction and DIY tools and utensils.
Do not hesitate any longer; contact us and get information without obligation! The economy obtained from our production allows us to offer very competitive prices and ensure fast customer service, saving inventory costs and avoiding stock-outs.
Our priority is to provide you with a tailor-made service to bring added value as a supplier to our customers. Start using our industrial anchor rubber band as the best solution for the automotive wiring industry.