Therefore, they consider that it lacks any practical sense to wrap these fruits and vegetables in plastic, which often ends up going into the natural environment.
Natural rubber bands An end to plastic overpackaging of fruits and vegetables in supermarkets. 
The Government presided by Emmanuel Macron has now approved the decree, based on that law, to ban plastic packaging on fresh fruits and vegetables.
In this article we tell you all the details and also what happens with Spanish products sent to France. 
Details of the measure
The measure will start to be applied on January 1 next year, when a progressive timetable will be put into effect to give more time to the most delicate fruits and vegetables. In any case, the process must be completed by June 30, 2026 at the latest.
Specifically, from January 1, 2022, about thirty fresh, unprocessed fruits and vegetables will be sold without plastic. 
The vegetables will be as follows: leeks, zucchinis, eggplants, peppers, cucumbers, potatoes, carrots, round tomatoes, onions, turnips, cabbage, cauliflower, pumpkin, parsnips, radishes, root vegetables and Jerusalem artichokes.
Fruits are: apples, pears, oranges, clementines, kiwis, tangerines, lemons, grapefruit, plums, melons, pineapples, mangoes, passion fruit and persimmons.
As for the rest, the approved decree establishes a timetable in which marketers must find alternative solutions for packaging before June 30, 2026. These are fruits and vegetables that present a higher risk of spoilage when sold in bulk.
This is the case for peaches and apricots, fully ripe fruits; sprouted seeds, red fruits and even early vegetables, i.e. harvested in spring, before reaching full maturity.
It is estimated that 37% of fruit and vegetables are currently sold in packaging, so it is estimated that this measure will eliminate more than 1,000 million unnecessary plastic containers each year.
Spanish exports, too
This measure will affect not only French producers, but all companies that want to market fruit and vegetables in France, and therefore Spanish ones.
Historically, both countries have had a good communication in relation to trade agreements, in addition, having the same border makes this exchange more and more constant.
Two characteristics of the French market generate unique opportunities. 
On the one hand, the development of organic products, where Spain can provide a large number of products and options.
And also the distribution system of the neighboring country, with channels that improve every year and that allowed an increase in demand, bringing Spanish fruits and vegetables to supermarkets, hypermarkets, supermarkets, but also to greengrocers and classic neighborhood stores.
Spain exports to France fruit and vegetables worth more than 3,000 million euros a year, since the French country is the second destination of our exports, only behind Germany.
Considering the products, a total of 1.4 million tons of fruit are exported to France, the main ones being oranges, tangerines, watermelons, lemons and melons, although there are also high volumes of stone fruit and strawberries. 
Vegetable exports amounted to 874,896 tons, the main ones being zucchini, lettuce, bell pepper and tomato.
This was a long-standing aspiration of the environmental movement and consumer organizations, which also seek to introduce a similar measure in Spain.
These entities recall that most fruits sold in supermarkets are already provided with their own natural 'packaging', the skin, which is also discarded when the product is consumed. 
'Nude the fruit' is a campaign underway to imitate the model now adopted in France.
Our natural rubber product is a solution for the fruit and vegetable sector.
Suitable for food contact, they are the ideal solution for tying the product stems and holding their leaves, thus preserving moisture and maintaining freshness.
The grouping of the product by tying the elastic band facilitates the proper presentation for the final consumer, without the need to use plastic for fastening.
Its application can be:
Tying of chard stalks, spinach….
Binding of lettuce leaves, radicchio and other leafy vegetables…
Grouping of asparagus, carrots, leeks, chives…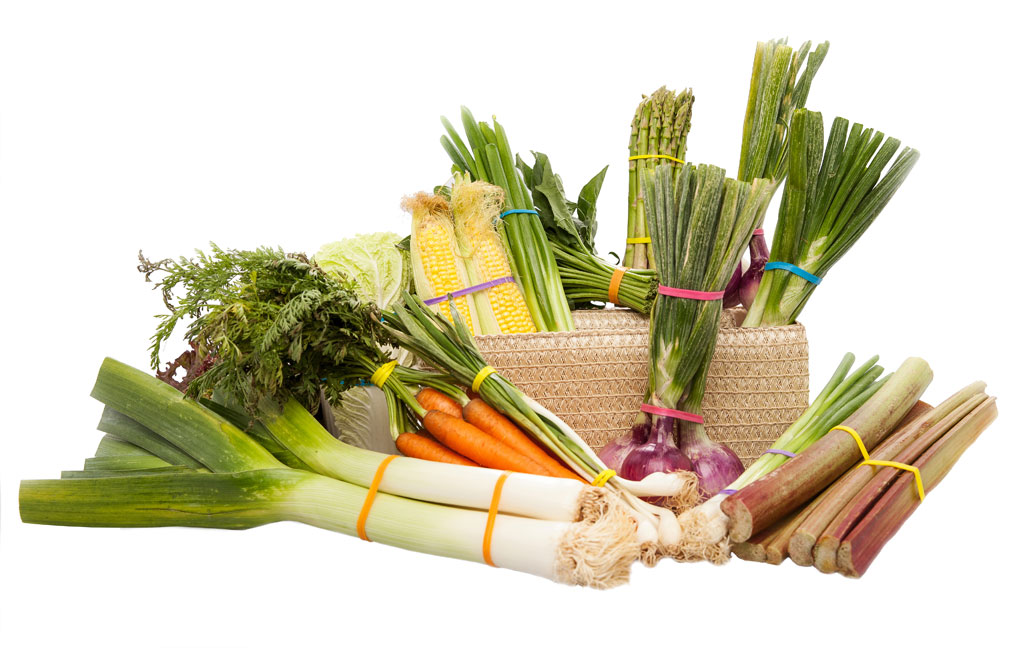 Of course it offers an elastic fastening that does not damage the product, it is reusable and has an easy tying.
Write us HERE, and start using our Natural Rubber Band and get ready for the changes that the market is imposing today.