The automotive industry plays a crucial role in our society and is experiencing steady growth in the European market. According to data from the European Automobile Manufacturers Association (ACEA), around 301 automotive factories are operating across the continent, generating around 8% of the EU's GDP in 2022. In addition, it is estimated that an average of 5.3 motor vehicles are produced per person.
"It is estimated that an average of 5.3 motor vehicles are produced per person".

European Automobile Manufacturers Association (ACEA) report. 2022
What have been the industry's main challenges? The automotive sector has faced several challenges in the last three years: the pandemic, confinements, supply chain problems, and the imbalance between semiconductor supply and demand. Today, companies are reorienting their priorities by reducing emissions throughout the value chain to leave a more sustainable footprint.
Promoting More Sustainable Mobility
Since Volkswagen's "diesel cheating" in 2015, concern for the environment has been high on the automotive industry's agenda. Initiatives such as the European Union's Green Pact, the United Nations' Agenda 2030, or the Horizon Europe Program seek to ensure that both manufacturers and suppliers develop solutions with a positive impact on the social and environmental surroundings: moving towards a clean economy with zero emissions, and improving the well-being of people and businesses across the planet.
Much of the industry recognizes that the supply chain must be taken as an effective starting point for a more sustainable business. As a result, more mature companies include in their selection processes strategies to ensure compliance with sustainability policies in their first-tier suppliers (Tier 1) and so on down the chain (Tier 2, Tier 3).
This article will focus on a specific product within the supply chain: the wiring and fastening systems used before and after assembly.
What Systems Are Used for Cable Tying and Fastening in the Automotive Industry?
The different systems for tying and fastening cables vary according to their application and the safety requirements that must be met for each task. This considers materials, size, tensile strength, resistance to temperature changes, and types of ties, among others. Some of the most common are:
Cable management systems include components such as conduits, guides, and brackets, allowing an orderly and safe routing of cables in the vehicle.
Clamps: these are usually made of solid plastic or metal and are used to secure and organize cables in different areas of cars. They provide a secure hold and allow for easy installation and adjustment.
Nylon cable ties: also known as plastic cable ties, offer a firm and reliable hold. In addition, their design allows for quick and secure adjustment.
Velcro cable ties: manufactured with a Velcro material on one end, which allows for a secure and adjustable fastening. They are helpful when a temporary solution is required or when a quick and easy adjustment is needed. They are ideal for situations where cables are expected to be rearranged or modified with some frequency.
Industrial rubber bands: these are produced from natural rubber and, like Velcro ties, are a practical and efficient option as a temporary fastening system. Their elasticity and versatility allow them to adapt to different sizes and shapes of cables, providing a secure hold and preventing damage to the cabling.
Advantages of Industrial Rubber Bands for Cable Tying in the Automotive Sector
At Bandex, we manufacture industrial anchor bands made of natural rubber, which is positioned as a practical alternative for the automotive industry. Below we summarize some of its other advantages:
It Comes from a Renewable Source
Compared to the tying systems mentioned above, one of the main advantages of Bandex anchor bands is their natural rubber base. It is a plastic-free product, which contributes to reducing the environmental impact and meets the requirements of an increasingly sustainable automotive industry.
Secure Tying
Our industrial rubber bands offer a secure hold that does not damage or mark cables. It has an anchor-shaped head that prevents unintentional slipping or loosening.
Ease-to-Use and Typologies
To attach an anchor band, stretch it with your hands and hook it to the anchor. To remove it, pull it out. In addition, there are different models of industrial anchor bands, some of which include an appendix for making removal even easier.
By tying it with an anchor band, we would avoid possible damages due to cuts that could render many meters of cables useless.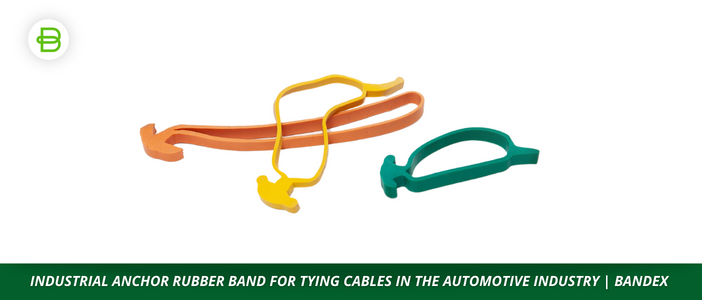 Elasticity and Versatility
One of the main characteristics of the industrial rubber bands manufactured in Bandex is that they can be five times its size, providing more elasticity and versatility in their application and adapting to different shapes, sizes, and fastening requirements.
Reusable System
Unlike cable ties, the industrial anchor band can be removed and repositioned without damaging the product. This provides an advantage in terms of cost and practicality, as it is unnecessary to discard the product after using it or use new ones if it has to be repositioned. On the other hand, it reduces the amount of waste generated.
Variety of Colors and Sizes
We have a wide variety of sizes and colors according to the needs of each customer, allowing us to hold cables of different thicknesses so that they can be easily identified.
Aligned with the sustainability demands of the automotive industry, Bandex industrial rubber bands are positioned as a practical and secure solution for cable tying and fastening.
Try our industrial rubber bands! A product so simple that it just works. Our team of professionals will be able to give you more details about its uses and applications.